THE BEGINNINGS
By Ron Edward, Kamloops Winemakers Association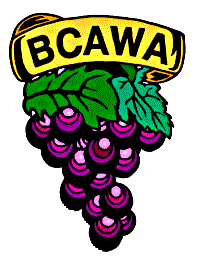 The serious beginnings of BCAWA started taking place in 1971 when about 150 winemakers from 9 different clubs attended the 1971 Penticton Harvest and Grape Fiesta. The clubs were from Revelstoke, Trail, Merritt, Victoria, North Vancouver, Coquitlam, Vancouver, Abbotsford and Penticton.
At a festive gathering of these winemakers on the S. S. Sicamous on the evening of September 25th, 1971, a proposal was made to consider some sort of provincial organization. Dennis Culver, of the North Vancouver club, was asked to form a committee to look into this. The idea was that events such as conferences and competitions could be co-ordinated within such a framework.
The first meeting of what came to be known as the "Provincial Investigation Committee", or "PIC", was held on December 12 1971 at Dennis Culver's home with Dennis acting as Chair. Other winemakers attending were Ian Ogden (Coquitlam), Charles Plant (V.A.W.A), Gordon Gauer (VINOVAN) and Norm Heppner (Bacchus Alumni).
The Committee put together a questionnaire, the first of many in BCAWA's convoluted history, which was sent out to all the clubs for their input.
In early spring, May 14th 1972, the second meeting of PIC took place. Present were Irene Kehler (Bacchus Alumni), Franz Brunnhofer (North Vancouver), Charles Plant (VAWA), Ted Underhill (Victoria) and Ian Ogden (Coquitlam). Dennis Culver again chairing the meeting where the returns from the questionnaire were dealt with, and conclusions drawn.
Among many other items, it was decided that a Provincial Competition should be held annually, roughly a month before the National Competition. Further, an annual Provincial meeting (separate from the Competition) should be held and hosted by a different club each year.
So that fall home wine makers from all over the province once again entered their wines in the Penticton Harvest & Grape Fiesta. It was the only place in the interior where a competition took place involving the grape and wine industry with a trophy being awarded. The award was given only to the persons making the best red wine and best white wine from B.C. grown grapes.
They toured many vineyards, had some meetings, picked grapes, danced, had a great time and over the weekend accomplished much of the work that would complete the formation of the B.C. Amateur Winemakers Association.
PIC's final meeting was the morning of September 16th 1972, in Penticton with Dennis Culver still sitting in the chair.
Winemakers attending were from 10 different clubs: Alan and Hazel Harris (Cordova Bay), Sonia and Gordon Garlinge (Burnaby), Charles Plant and Tom Robinson (VAWA - Vancouver), Gordon Kerr and Desmond Reigh (Penticton), Margaret and Jock Fairholm (Bacchus Alumni – Abbotsford), Dick Dixon and Franz Brunnhofer (North Vancouver – VINOVAN), Mike Knight and Garth Ray (Chilliwack Zymurgy), Ian Ogden and Bob Gibson (Coquitlam), Les Tarnai (Quesnel) and Bill Ferguson and Wilma Sjodin (Revelstoke). Joan Ferguson (Revelstoke) and Harvey Edwards (Penticton) were also at the meeting in the non-voting capacities of Secretary and Scrutineer respectively. Some of these founding clubs are still active today after 28 years which says a lot for the clubs and their members.
At this meeting, all the material to be presented to a General Meeting in the evening was discussed. This included a set of "Operating Parameters" (PIC didn't want a formal set of by-laws), details concerning the Provincial Competition, finances, relationship with the independent, "The Grapevine" newsletter and the duties of the Steward, which it was noted would be "substantially more extensive than those connected with the spirituous welfare of the Executive and Governing Council."
At the General Meeting in the evening of September 16th, 1972, eighty or so winemakers approved PIC's final report, its selection of a name for the provincial organization and the first slate of officers which were:
| | |
| --- | --- |
| | President – Margaret Fairholm (Bacchus Alumni – Abbotsford) |
| | Vice President – Tom Robinson (VAWA – Vancouver) |
| | Secretary – Ian Ogden (Coquitlam) |
| | Treasurer – Gordon Garlinge (Burnaby Vinegar Flies) |
| | Steward – Charles Plant (VAWA) |
The British Columbia Amateur Winemakers Association was in business.
From these early beginnings this volunteer organization has nurtured and encouraged amateur wine making across the province. The result has been that we have a large, healthy bunch of wine clubs that are producing some fantastic wines. Keep up the great work.
My personal thanks to Charles Plant and his great memory and notes for the information that made this article possible. I hope that it serves as a starting point for someone to assemble the colourful history of this organization from its founding to the present while many of the founding members are still around to interview.